STORY 2

Hot spring monitoring with local residents

Beppu City in Oita Prefecture has more hot springs than any other city in Japan, and is known as one of Japan's leading hot spring tourist destinations. These hot springs are used for various purposes in hotels, inns, and other lodging facilities; in municipal and public bathhouses; and in hospitals and other health and welfare facilities. Although hot spring resources might seem abundant, hot springs are in fact a limited resource. For instance, during the period of rapid economic growth in the 1950s–60s, the excessive consumption of hot spring water triggered a drop in hot spring water temperature in coastal areas. In recent years, hot spring thermal power generation has attracted much attention as a renewable energy source, and the demand for hot spring resources has been increasing again. There are concerns about changes in hot spring water temperature and composition, and because many hot spring thermal power plants are located upstream of rivers, there is also apprehension about the supply to lodging facilities and bathhouses located downstream.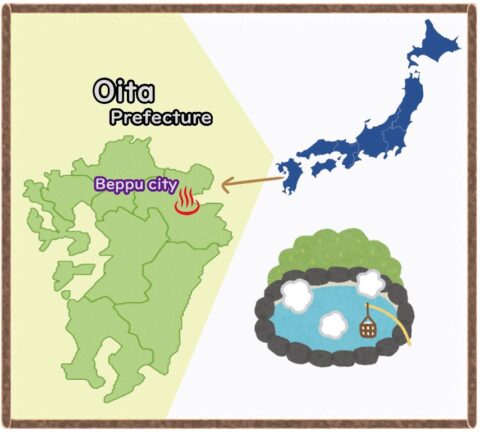 It is not possible to measure the total amount of hot spring water located underground. Therefore, it is important to continuously monitor the current situation, detect changes as soon as possible, and take any measures necessary to ensure sustainable, fair, and equitable use of the hot springs in the long-term, without depleting or diminishing them.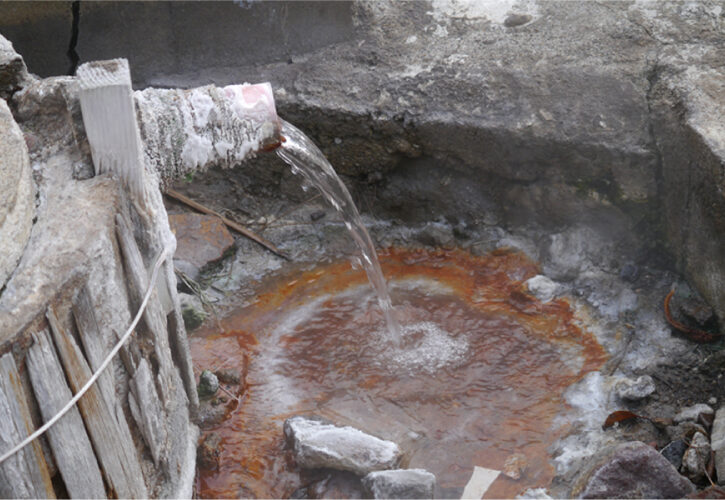 Against this background, the Nexus Project (official name: Human-Environmental Security in Asia-Pacific Ring of Fire: Water-Energy-Food Nexus) of the Research Institute for Humanities and Nature (Kyoto, Japan), conducted a survey in collaboration with the citizens of Beppu to measure the temperature and composition of hot springs.
In order to understand the status of hot springs, it is necessary to collect scientific data that can be used as a basis for evaluating changes. The natural scientific mechanism of hot spring formation is a complex process involving the water cycle and geological phenomena spanning the atmosphere and groundwater. However, by studying the temperature and composition of hot spring water at the source, it is possible to determine whether the hot spring water supply is stable or changing.
In the past, experts conducted such research on hot springs. However, it is up to residents to decide how to utilise and manage the hot spring resources as a common property of the city. Therefore, in order to co-create knowledge about hot springs and to create a mechanism for residents to continue monitoring the hot springs on their own, the Beppu City Office Hot Springs Division, local universities, and NPOs collaborated with citizens from a variety of backgrounds in a project called 'Let's measure it! Beppu City-wide Hot Spring Survey'. The first survey was conducted in November 2016.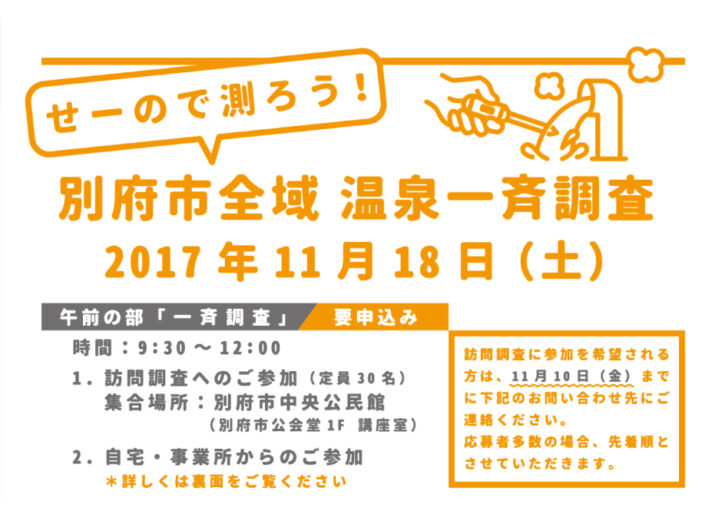 During this survey, participants were divided into several groups and visited hot springs distributed throughout the city to measure characteristics such as water temperature, electrical conductivity, and pH, while researchers provided guidance on measurement methods, analysis, and interpretation of the data. The second survey involving residents was conducted in November 2017. After the project was completed in March 2018, Beppu City took over the work and has since continued the survey activities every year.
Authors: OH Tomohiro、Yuko Onishi
What is a co-creation story?
The story focused on co-creation activities of researchers and the stakeholders to real-world problems. It is not a summary of the research project, but an original article based on interviews with the researchers and residents involved, as well as publications from the project. If you would like to know more about the research project and its outputs, please refer to the following references.
References:
Endo, A., & Oh, T. (Eds.). (2018). The water-energy-food nexus: Human-environmental security in the Asia-Pacific ring of fire. Springer publishing

Kenshi, B., Naoki, M., and Endo, A. (eds.). (2018).The Water-Energy-Food Nexus for Geothermal Resources: Toward an Interdisciplinary and Transdisciplinary Approach. Tokyo: Kindaigagaku. (in Japanese). Available on Amazon
Endo, A. et al., 2021, Methodology for Nexus Approach Toward Sustainable Use of Geothermal Hot Spring Resources, Frontiers in Water, vol. 3.。
Website:
Research Institute for Humanity and Nature.Water-Energy-Food Nexus Project website