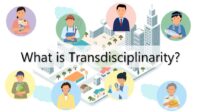 We are pleased to annouce that we released an English version of our video: "What is Transdisciplinarity?".
Transdisciplinarity is increasingly recognised as an important concept in addressing the environmental issues. It is a concept first conceived in Europe and developed mainly in European countries. However, in many countries including Japan, researchers and the stakeholders are still unfamiliar with the term and often do not have a common understanding of its meaning.
Co-creation project created this video to provide basic information on transdisciplinarity, which covers the following topics:
・What is transdisciplinarity (TD) and transdisciplinary research?
・Why is TD important?
・How does it differ from multidisciplinarity and interdisciplinarity?
・How can I carry out transdisciplinary research and what is the research process?
Please note that this English version has a narration and subtitles in English but the texts on the video are in Japanese. If you think this video is useful, please let us know, and we may think about creating a video with English texts as well.